Motorola Droid Bionic runs on Android Gingerbread. And let me tell you that this is one of most smoothest and quickest ways of rooting.
And if you are looking for step by step guide to root Motorola Droid Bionic, then this is the best possible way. But what exactly rooting would do to your gorgeous Droid Bionic.
Well, once you root Motorola Droid Bionic, it unlocks some of its features. And it lets you install custom ROM on it and lets you use number of third party apps which would surely make your life better.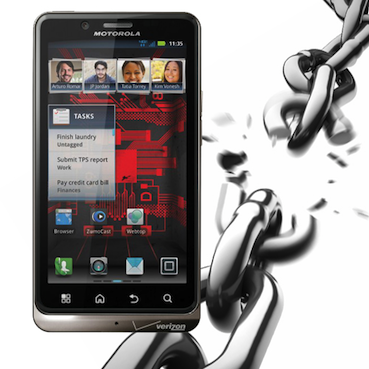 Step By Step Guide – Root Motorola Droid Bionic
Before we start with the root procedure, there are two things that you need to have on your computer which are, Droid Bionic drivers and MotorolaOneClickRoot.zip.
Now we have the required files, so we can trigger the task.
First thing you need to do is take your Droid Bionic and navigate asSettings>Applications>Development and put a tick in the check box of the option labelled as USB Debugging.
Once done, connect your Droid Bionic to your computer in the Charge Only mode.
In the first step, you have downloaded MotorolaOneClickRoot.zip. Just unzip it and run the file, MotorolaOneClickRoot.exe and then follow the instructions step by step.
That is all! This is how you can easily root Motorola Droid Bionic in one click. And this one click roottechnique works for other Motorola smartphones too which include, Droid Pro, Droid 2 Global, Droid 3, Droid X, and Droid X2.
Via [ here ]