In order to flash custom ROM on Motorola Droid Bionic, you need to have a rooted device. We have already shared a tutorial to root Motorola Droid Bionic, using which you can root your device.
Since we have a rooted device in our hand, we can go ahead and install / flash custom ROM on it. This is a complete step by step guide that you help you in the process.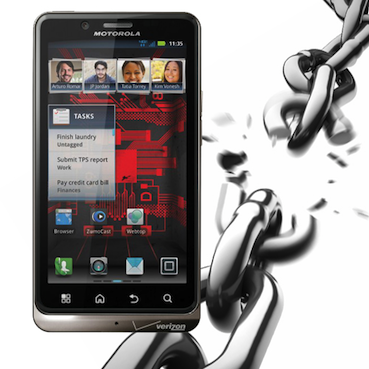 Guide To Flash Custom ROM On Motorola Droid Bionic
This is a complete step by step guide to flash custom ROM on Droid Bionic. As already told, you need to root your device first and then we can go ahead with the remaining steps.
Now, I am assuming that you are done with the whole of the rooting procedure.
In order to flash custom ROM on Droid Bionic, you need to have custom ROM on your computer. For that, visit XDA-Forums and download the custom ROM that you want. There is no hard and fast rule on the ROM that you want to use but it is HIGHLY recommended to go with CyanogenMod 7 or MIUI as they have been impressing the users heavily.
And there is one more thing that you need to install on your Droid Bionic, which is ROM Manager. It looks like we are ready now. So lets start with our task to install custom ROM.
Launch the ROM manager on your device and choose the option, Flash Clockworkmod Recovery. This would prompt you to authenticate that you have root permissions.
Now plugin your smartphone to the computer in storage mode and copy the downloaded Custom ROM onto the SD card of your phone.
On ROM Manager, tap on the option Install ROM using SD Card. Just browse to the location where you have copied the zip file of the custom ROM.
Now it would ask if you want to Backup Existing ROM or Wipe Data and Cache. It is highly recommended to go with Backup Existing ROM because it is always good to have backup of the workingconditions in order to restore it back in case of any issue.
Once you proceed with it, Droid Bionic will reboot into Clockworkmod Recovery. And then it would first backup your existing ROM, install the new ROM and then clean the cache data. And once done, the smartphone will reboot itself.
Just grab a cup of coffee and some cookies as this would take some time. And once the smartphone is ready, just login using Google Account in order to sync stuff.
That is it! This is how you can flash custom ROM on Motorola Droid Bionic.
Via [ here ]